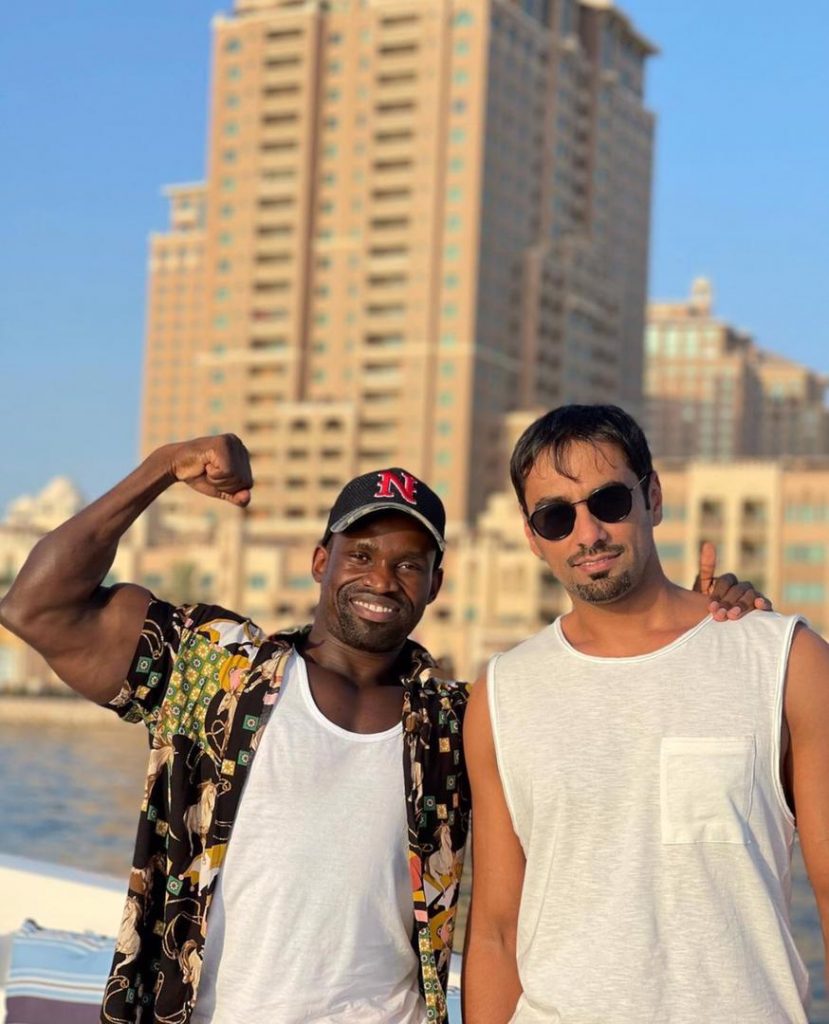 After winning two gold medals at the International Natural Bodybuilding Association World and Bodybuilding Championships in Dubai few years ago, we have witnessed how Mubarak Kizito has worked hard to turning a pro. Today, we had a chat this him as he shared with us how he's focused on even doing better in future as to represent Uganda.
Who are you?
I'm Mubarak Kizito, a bodybuilder. I was born to the late Kamadi Namwanja and Rose Nakawesi of Kasawo. I grew up in Kabalagala.
You did not tell me about your marital status.
Hmm, I have children and I can neither confirm nor deny being in a relationship.
How did you join bodybuilding?
When I was still living in Kawempe (another Kampala suburb), I used to admire the likes of Ibrahim Ssebatta and David Zziwa, who were very good at this boby building sport. In 2006, I tried to compete in Mr Kawempe tournament but people just laughed me off the stage in the preliminaries. I was so small.
What have you achieved, so far?
I'm now a great bodybuilder who has not only won national events but also international medals for my country. On my first international appearance at the World Championships in Dubai 2015, I won two gold medals – one from my category of Short Men, and another as the overall winner among all Novices.
Should I say that was your greatest achievement, ever?
It was great but I think the silver medal I won in Hungary in the year 2016 at the World Championships was my dream come true moment. I got it after stiff competition from seasoned athletes like my colleague Ivan Byekwaso, and others. Oh how I cherish it.
What's your winning formula?
I cannot tell, I do the same training like others and I share tips with colleagues, but we have different bodies. Maybe I'm just naturally gifted. Take an example, my back is naturally unique which gives me an advantage… So i think i dont have any formula all i do is to train.
What is the most challenging moment in your career?
Preparing for a big tournament, Normally, it takes about four months but due to financial limitations, I squeeze it into 10 weeks.
But that means intensive training and dieting. I train at least twice a day, and eat a lot. I eat at least six times a day, which costs me about Shs100,000.
I eat non-appetising foods to cut the fat, sugar and salt. Foods like plain oats, brown rice, vegetables without salt, and a lot of water. I also abstain from sex.
During that time, anything small makes me raises my temper so i try my best to be calm.
Towards the tournament, you only drink 500ml for two days—you don't want to sweat on stage.
How then do you balance the equation of a very expensive yet less rewarding sport?
It's hard but a bit easier now than before. Friends and fans give me some money; I have free training offers at the best gyms in town like Africana, Grand Global, G.G's and Nakivubo. Passion is the major driving force.
What else do you do for a living?
I'm a gym instructor and a personal trainer. I also deal in motor spare parts.
Don't you get attracted to female clients training in compromising attire?
You just have to act professional, focus on your job and treat every client as such. Otherwise, how many are you going to date? And what shall they tell the other ladies about you?
Which other sports did you do before?
I tried basketball but my small size was a deterrent – My uncles inspired me into motocross but my dad discouraged me that it was a deadly sport.
I admired and tried rugby, taekwondo, wrestling, but I got busier with bodybuilding.
What don't people like about you?
Keeping a low profile even when many think I'm a star. I can walk into any big hotel, greet those who care, do my business and leave without them noticing I was the one.
What is your ultimate dream?
First, is getting that pro card such that I can earn from the sport and having a multi-sport gym for all athletes in Uganda.
What is next on your agenda?
I'm training for two big events—the World Cup and Mr Natural Universe both slated for November in USA.
And your expectations?
I always target the greatest medal and that's what I'm going for.
What has been your worst memory yet?
That was when we got stranded and slept on the street in Nairobi. I had won a minor trophy in the 2010 FEM Championships, but our colleague who was coordinating our transport short-changed us.
Instead of booking return bus tickets, he had only paid for one trip to Nairobi and he disappeared after the event. I only had Shs10,000 and so the four of us slept on the streets as we waited for assistance from Uganda.
(Submitted)