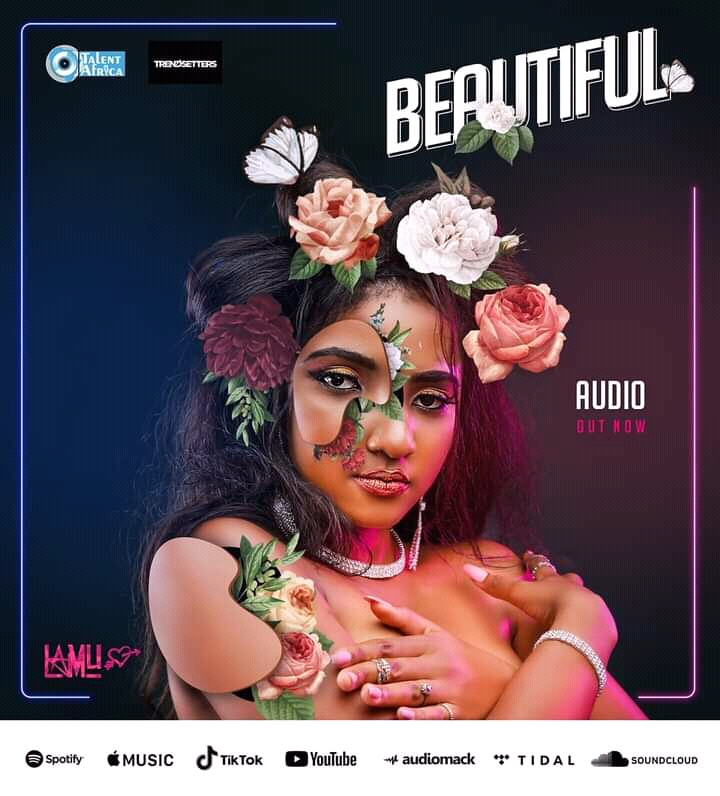 Trend Setters Africa signee and pop star Ahlam Ismail also professionally known as Lamu is back with her first single of 2021. Lamu has today dropped her new single, "Beautiful" — the first since her July EP 'No Pressure'.
The song arrives just seven months after the release of the singer songwriter's debut 7-track Extended Play "No Pressure" which was released on 17th July, 2020.
From a listen to the 2minute 46 second single, Lamu seeks to remind you and I that we are beautiful, just the way we are. She expresses this powerful message over a Richard Gumisiriza, and Mark Okot composition who also co-wrote the song with her.
She in Kiswahili, Luganda and English lyrics sings of us embracing the kings, queens, treasures and how amazing we are on the inside and the outside.
'Beautiful' was produced at the Talent Africa Group (TAG) Studios, and had a release date of today 8th March, 2021 as first teased by the singer across her social media platforms. From the 9 listens I have so far given the song on SoundCloud, I'd say its production, and lyricism plus the Lamu's vocals and melodies deliver a new surge of a much-needed 'energy' to reinvigorate the touch times amid the feelings of self-doubt that sometimes hit us as humans.
The single's arrival was announced on Lamu's socials, with its artwork and an accompanying link to stream and download the track on your preferred music platform.
Stream/ Download it here: http://ffm.to/lamubeautiful
( Source : Mugibson)