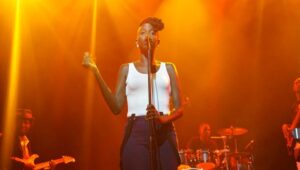 With many years of experience, Uganda's soul, blues, and jazz singer/songwriter cum producer Yvonne Nabeta better known as Evon, has crafted her own musical style of combining soft soulful, and playful lyricism and a rare musical mix of Soulful blues with Ugandan influences.
Last year, the talented vocalist blessed the good music addicts with her second album which is a 10-track compilation 'New Me Now' – a reggae-packed body of work where she displayed her creativity of fusing and marrying music genres. This album which was crafted by fusing Ska and a few reggae grooves won her couple of fans because of its ear-friendly vibes. ' Kampala' which is the first track on the album, its still people's favorite –  rich with catchy lyrical content that explains the journey through the streets of our city.
And again, the talented Evon returns with yet another soulful song themed 'Bimuli'. This finds her at peak of her artistry as previously displayed in her 1-year-old New Me Now Album. Interestingly, Bimuli was produced with no single instrument but rather she combined sounds from the surroundings such as sound by the Birds, The raking of leaves, The garden shears cutting sound, The ax cutting a broken branch of a tree, Fork and spoon sound, Claps and the sound made by the neighborhood children playing.
Bimuli which is loosely translated as Flowers is said to be off her forthcoming Extended play ( EP ) titled 'Songs Of home'. On this not typical Evon song, she exhibited the best of her with her iconic voice which is heard rendered beautifully and confidently on the track sung in English and a bit of Luganda.
The track was produced by Evon herself and Uganda's celebrated sound engineer, Lamara Sam took charge of final mixing and mastering for it to sound beautiful.
Watch the song here: