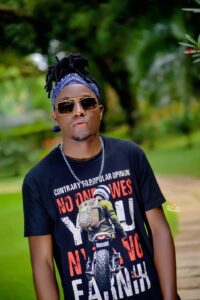 Uganda's versatile artiste Simon Bunks 13 takes us through an emotional Luga flow journey in his new piece of rap tagged 'Dear God' – An open letter to the almighty.
The emotion-packed 'Dear God' has a catchy rap vibe and it predominantly questions God as to why the world was left in the wrong hands of the dark side. ' What if this is the hell on Earth? what if to be born is to die and to die is to be born in another universe' Simon raps as he displays his versatility complemented by great lyrical content.
The song whose production is credited to Nexo Beats has been massively received by music lovers and endorsed by industry music critiques because of its unusual musical taste. In this song, Simon Bunks has proven that he is a force to be reckoned with when it comes to composing songs with meaningful content.
It's colorful visuals which clearly interprets the audio, was shot and directed by NG FILMS. Kindly check it out.