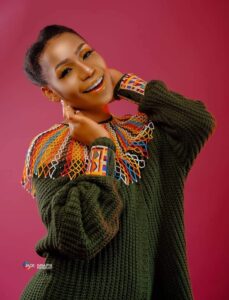 There's no dispute about the talent that abounds in the music space in Uganda and one of such budding female artistes that is coming up strongly is Jera Kiss – A talented female act to watch out for.
Under the watch of her music group Jera Music, the talented Afro-Pop music star Jera is here again with another beautiful piece of  musicemed 'Nkufilinge' released about 5 days ago and it has since been the major subject for discussion in the media and with loyal music lovers decoding the lyrics word by word, it's a groovy song that can't leave any one down when played. Yes, Jera defines well the 'Ebiluma abayaye' phrase as other female competitors trembles when her name is mentioned.
'Nkufilinge' is a Luganda dialect to mean 'Let Me feel you' produced by Bomba Beats and has Jera re-affirming her love to her lover. The video simple with simple scenes, sees Jera and her love interest in different shots enjoying one another's a company as she tells him how she really feels him as directed by Jerome Kakande ( KJ Frames ).
Take a look ;