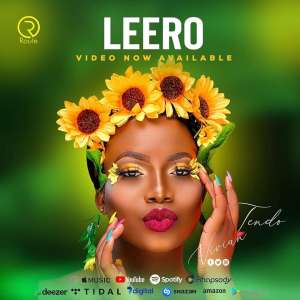 Gifted with power to turn music lovers on, Route Entertainment Diva Vivian Tendo has finally released her music video to her afro Beat love piece 'Leero'.
Released 2 months ago, 'Leero' is a fusion of Bossa Nova, Abit of Tarab and Afro Beat and has Vivian painting a soulful scenario as she expresses her undying love to a man of her life – how he blows her away like a trumpet and play her like a solo guitar. Vivian was destined to be unique and blossom when she released her first Hajjat Wa Hajji which shot her into the mainstream world.
On this love piece written and composed by Route Entertainment boss Yesse Oman Rafiki, Vivian didn't disappoint on her deliveries, she displayed her talent and vocal dexterity by doing mashups onto it. The song has great production credited to route studio head of production ELI ARKHIS. The beautiful visuals was directed by Allan Soja – It depicts a colourful vibe between Vivian Tendo and her love character and was shot in a school library the scenes that will bring back those high school memories among her fans.
Watch the colorful visuals :