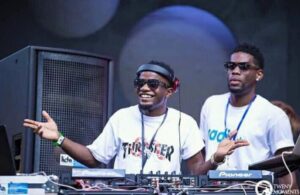 Ugandan Deejay duo comprising of Stuart Kavuma (Slick Stuart) and Rogers Kitaka (DJ Roja), finally released their debut music album titled 'Very Wellooo'.
The urban touch built 'Very Wello' album is made up of 20 tracks that feature mostly talented new school acts who are doing well as far as creating good crafts is concerned. It features acts like King Saha, Allan Toniks, Jose Chameleon, Winnie Nwagi, Rema Namakula, Lilian Mbabazi, Lyto Boss, Nutty Neithan, VIP Jemo, Daddy Andre, Bebe Cool among others.
The album also features production skills by Uganda's top sound engineers and producers headlined by Shotgun head of production Nessim Pan production, Daddy Andre, Theweezy On Beat, and several others.
Listen to the album here: http://smarturl.it/3mx217