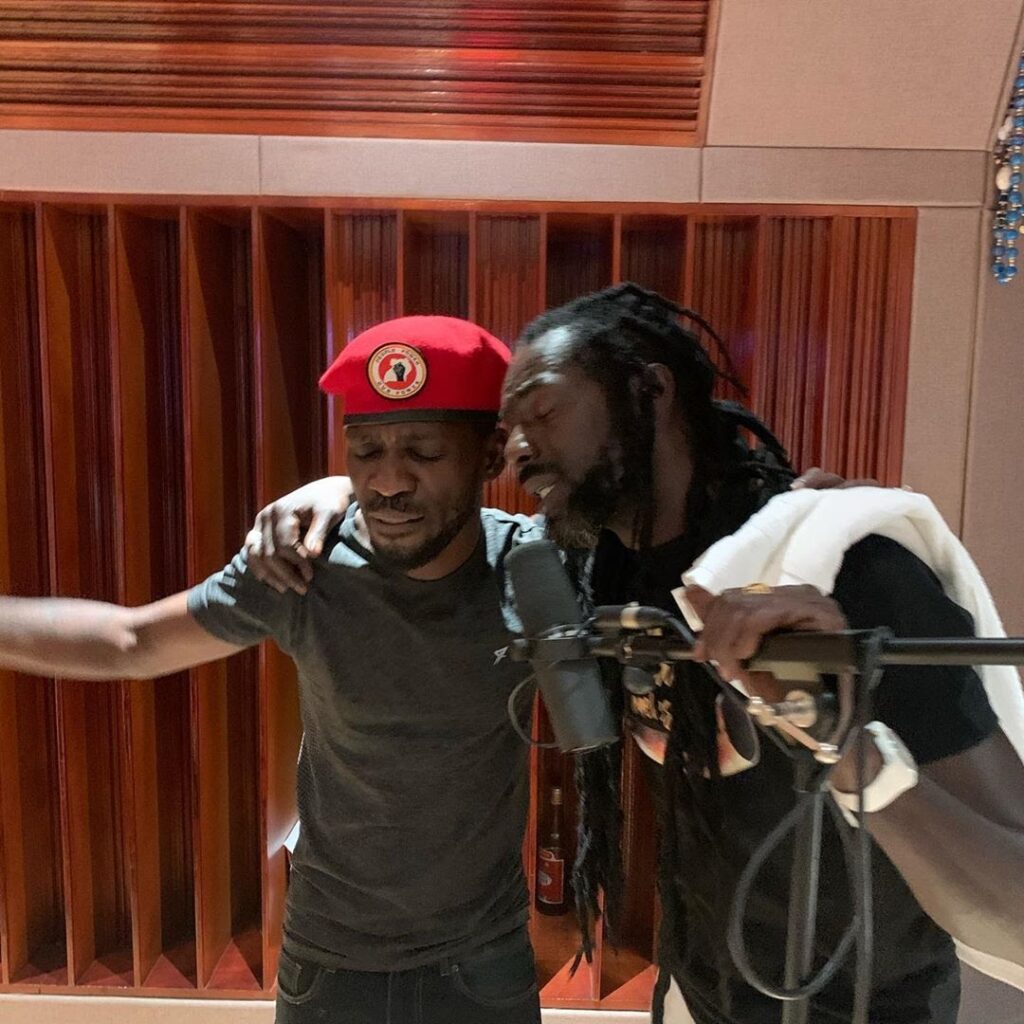 Legendary musician and 2021 presidential hopeful Robert Kyagulanyi Sentamu alias Bobi Wine has teamed up with his long time idol, a Jamaican reggae legend Mark Anthony Myrie alias Buju Banton on a new revolutionary collaboration dubbed 'Ballot or Bullet'.
The song that bears a strong political message is aimed at giving hope to people who want to see change in the country's government. The collaboration which points to the fact that there is no easy road to freedom has introductory lyrics that; "If it takes a revolution, freedom will have to come. By bullet or the ballot, let thy will be done".
The video also showcases a number of present day riots in Kampala, with the Uganda security forces firing bullets, teargas and arresting several people who are fighting for freedom.
Sure that the song will not enjoy airplay on the Ugandan radio and TV stations, basing on its message, the Kyadondo East legislator shared it on his social media page on Saturday, something he did with his 'Kasukaali Keeko' song that does not also play on the local media.
Bobi and Buju met two years ago during the Rebel Salute Reggae Festival which happened in Jamaica and after the show, he was able to share inspirational stories about freedom fighting and being a president. Since then Buju has been supporting Bobi Wine's ambitions – that's when the two singers hit the studios for this effort.
"Just had one of the most emotional days of my life. Meeting my childhood idol, a man who inspired me so much as I grew up was one of the best experiences I could ask for. I saw him. I touched his skin. We had a productive chat, he's a great man" he said then.
Bobi added that like a child listening to a father, he sat down and listened to this great man (Buju) and it was so captivating.
"It was very spiritual. It felt like I was seated under an oracle of wisdom. Wisdom flowing without end. Buju Banton the great! It was very pleasant to see that the seven years he spent in jail did not break him. As a matter of fact he is even stronger! He reminded me that jail is part of the price those who fight for freedom must pay before things get better. What a man!" he added
"On this day in 2019 we as Africans will see it fit to silence the voice of the people??? No more… Bobi Wine, I Buju Banton stand with you and my people in Uganda…Freedom," Buju said.
'Bullet or Ballot' will not be Bobi's first collaboration with a Jamaican artist as he has worked with Mr. G, Vershon, and Patra.
Watch the visual here.