Arguably, Tugende Mu Church by uganda's top audio producer, songwriter cum singer Daddy Andre is one of the biggest hit track of this musical year. The official music video to the original song was released a month ago and it has more than 770k Youtubes views which proves that its one of people's favorite songs released in this century, yes brethren.
'Tugende Mu church' which is loosely translated as Let's go to Church, is a love story piece where Daddy Andre hails his life long spouse as he intend to legalise their marriage, Its soothing song written produced and mixed by Andre himself with great melodies.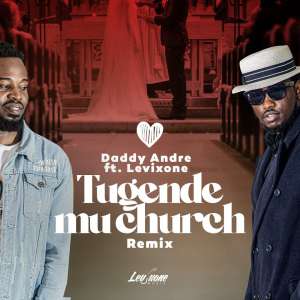 To add the icing on the cake, earlier this week, Daddy Andre surprised his fanbase with a remixed version featuring award winning gospel star Levixone who jumped onto the version with a gospel touch to complement the wedding anthem – Tuegende Mu Church and the result is explosive. Frankly, i didn't know the original even needed a remix until now that is—it's a straight banger. On this remixed version, Levixone speaks of how couples should go to the church and receive blessings for their marriage – He  didn't disappoint. The remix now adds Levixone's classic sound and naturally with beautiful musical elements. The track is still as vibrant as ever and the execution is admittedly seamless.
Both artists beautifully delivered as expected. The audio maintained Daddy Andre as it's producer.
Listen to it :