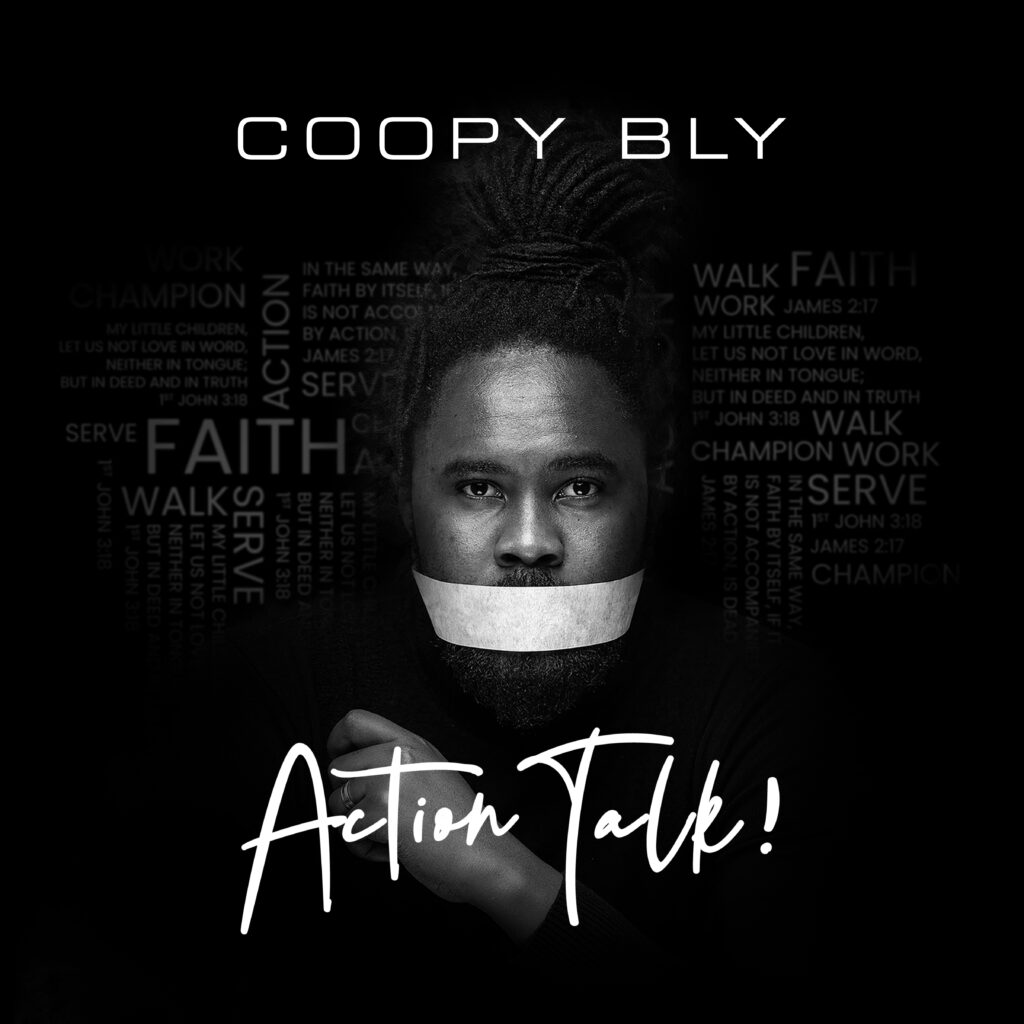 Celebrated Ugandan gospel music artist, Coopy Bly has released his new body of works, an album he tagged "Action Talk". The all-around album, dropped on 30th July of 2021 on all music platforms, is receiving rave reviews among music enthusiasts.
Prior to the album release, Coopy Bly shared a 1 minute and 35 seconds clip on his official social media where he conveyed the inspiration behind the album and why it should be anticipated. Later he posted album's metadata i.e tracklist, songwriters, producers, and features all to capture attention for action talk. He also released an afro-pop single off the album – the worship anthem, "Sinza" which is track 3 and racked up a whopping 22,000 YouTube views within its first week before the release.
"Action Talk" is a reference to James 1:22 a scripture that tells us to be doers but rather not hearers. Coopy draws this as a wake-up buzzer to getting down into action and not just making statements into a music project he believes will resonate with everyone in the fraternity.
He explains, " It's our task to put things we preach, things we share with our loved ones and whatever we do in our day-to-day life, As Christians into action. On most occasions, people easily say stuff but fail to take effort, they speak more than they do.
Christians are mandated to put what they preach into activities to touch more souls who would give themselves to Christ and this is the same with life"
The 12-track body of works has songs that speak to different phases of life and thereby are relatable to real-life situations and it takes listeners on a musical journey of provision, proclamation, positioning, and praise.
With its Production accredited to Cmert Keys, Baur, Nessim Pan Production, Josh Wills, and Masterboy, it has only one feature that's Track 11 'Tujja Kuwona' with Pastor Wilson Bugembe. It weaves threads of dancehall, Afro-poo, reggae through a multitude of genres.
Action Talk which is an intro track off the album is a dancehall piece where he encourages Christians to always practice what they sermonize. When the beat to this song drops, you just wanna get into it no matter what mood you're in – it prepares you for the next songs.
" It promises to deliver a reflective, prophetic and encouraging experience upon listening, all while placing the message of Christ directly inside the hearts and homes of any and every listener " he added.
Stream Action talk here: https://music.apple.com/us/album/action-talk/1575813753
Purchase hardcopy here: https://flutterwave.com/pay/actiontalk