Looks like album compilation is the "in thing" these days. Azawi has given us an album, Juliana promises an album and now King Michael has also come out with a 20-track album titled 'Nsiika' that will be released on Thursday, September 15, 2022.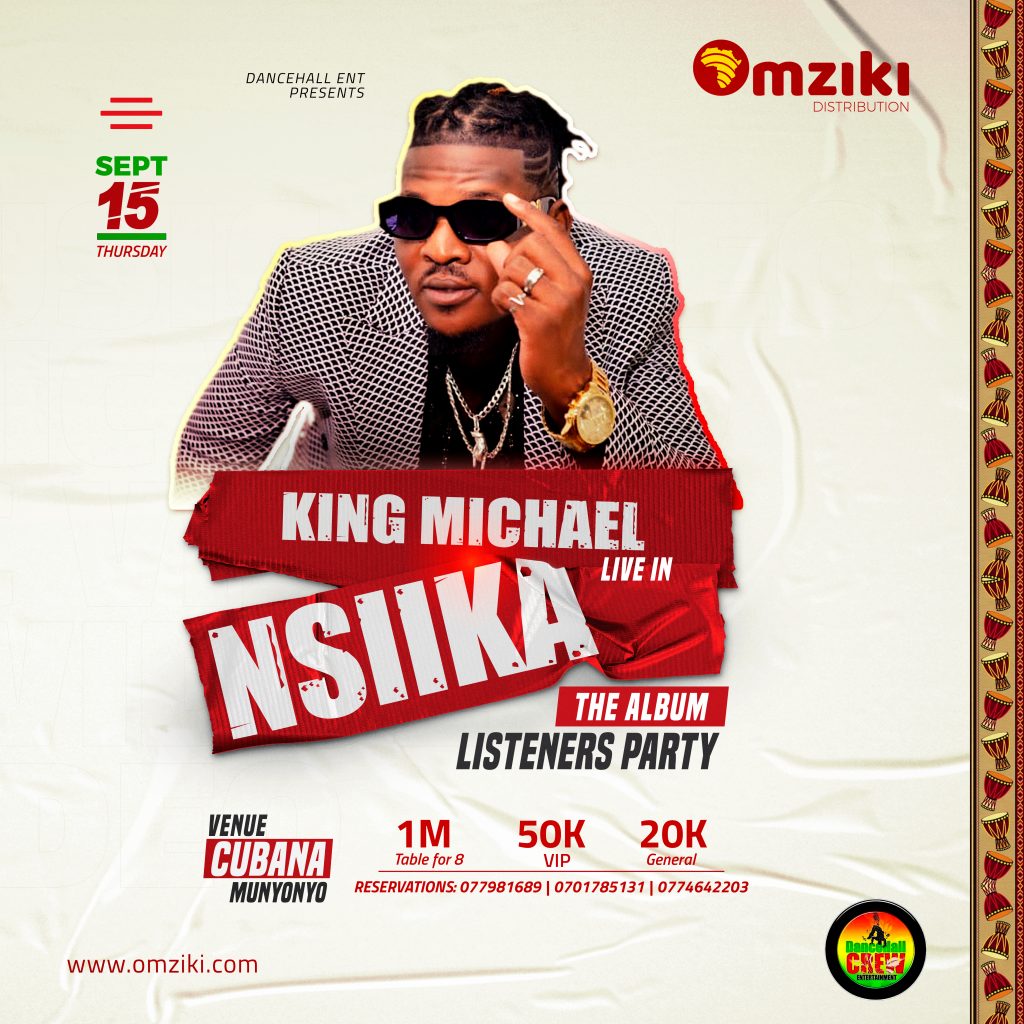 King Michael formerly known as DJ Michael, will hold a listeners party on the same release date at Cubana, Munyonyo where journalists, fellow artists and fans will have a live band experience as he will perform all the 20 tracks off the album. All attendees will have to pay a fee of Ugx 1m for a table, 50k (VIP) and 20k (general) – For further details and reservations, kindly contact: 0701785131
Appreciated for his art, the industry has always admired King Michael's approach to the genre, professionalism, energetic stage performance, and quality of music he produces and this is a confirmation that the listener's party is a must-attend
The album comprises of songs like 'Nsiika' which is the title track, 'Njagala Kulaba', 'Muliyo Mutya', 'Mad Love', 'Byadala', 'Guarantee' with Jose Chameleone, 'Ebulaya' with Spice Diana, 'Dalu' with Weasel, 'Inkeni' with Lady Sharia,' Nalulunji' ft Sarah Zawedde, 'Omwana remix' ft Mary Bata, 'Solome, Onumy'a and 'Mukulike Covid' among others, he says this body of work has everything you could think of.
"To me, this album is the state of the Ugandan music because it's educative, religious, and emotional with genres of Reggae, dancehall, and afrobeat thus enthusiasts will easily relate to it" he added.
Michael further said that he chose to release the album on the 15th of this month, as it will be his birthday. "I will not be celebrating as me, but rather my musical journey as well and I believe 'Nsiika' will serve as the best gift my fans deserve to have" He commented
According to him, the album which was initially supposed to be released before the pandemic, had only 10 tracks and the two years hiatus as a result of Corona, gave him enough time to compose, write and record the other 10 tracks as to deliver a full packed body of works to his fan base.
Lets go support him