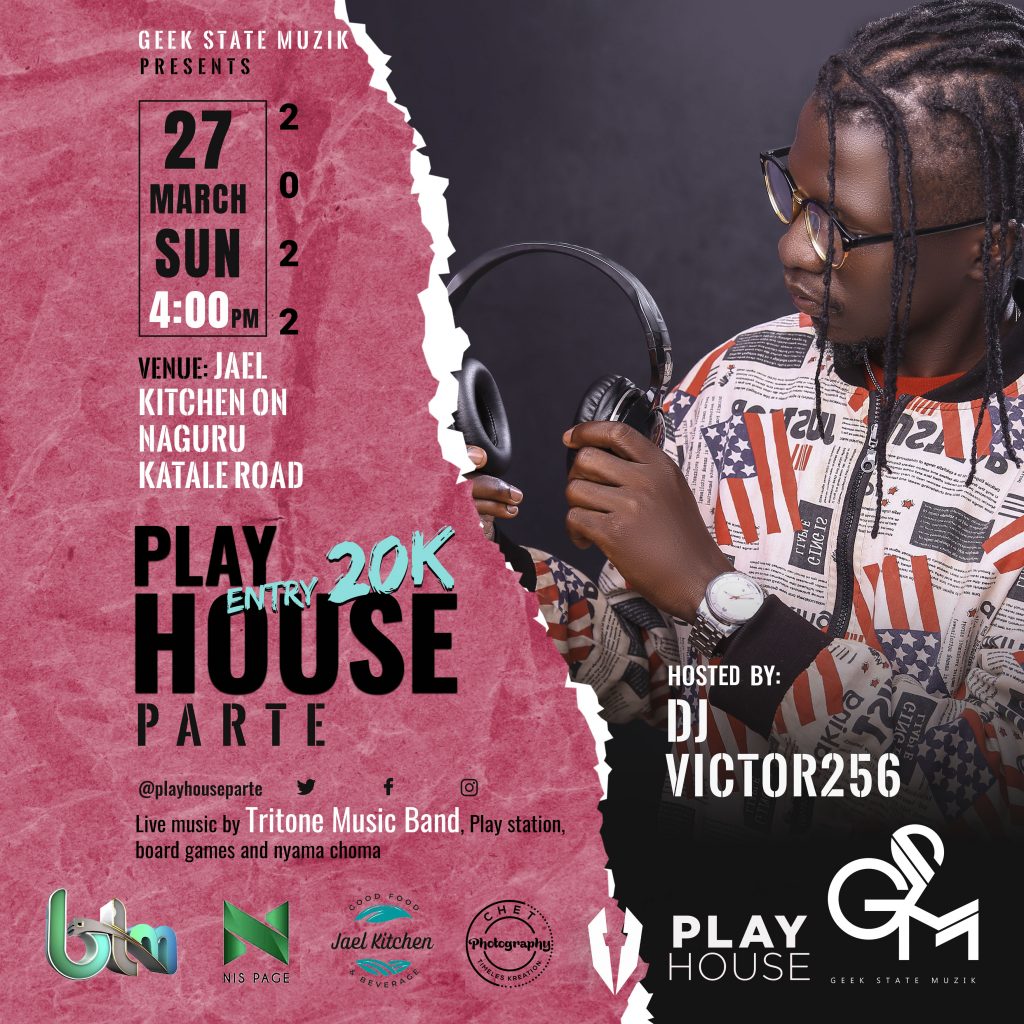 As party goers across the nation and beyond are getting used to normal days of parting and celebrating after a series of lockdowns, sanitary restrictions and social distancing, everyone is looking forward to seeing what Uganda will be like this year as many fan-packed list of events and other activities has been released ever since the nation opened a month ago. Among the list of these events, is the highly anticipated "PLAY HOUSE PARTE"
The event that's aimed at celebrating the industry gatekeepers, will be hosted by globally recognized gospel deejay, Ulokcwinywu Victor, famously celebrated as DJ Victor256 in the gospel world. The young and gifted deejay, has continued his trailblazing musical ways by becoming the first gospel DJ in Uganda to host an online show that's eventually turning into a physical house parte event.
This event, is a major accomplishment for the 25-year-old International gospel deejay who has fearlessly embraced every opportunity to take or even exhibit his skills to the next level. This which is his very inaugural event, has attracted both mainstream and gospel artistes who are so excited and confirmed to attend and hangout with his fans. Amongst them are Kemishan, Flex D Paper, Vyper Ranking who are bigger names in the mainstream fraternity and Grace Nakimera, Lyrical Mycheal, Ragga Pator amongst other A-List gospel acts and Media Personalities like Phil Kirya, Faith Mulungi, Sasoman deejay & Dj EaziE and Uganda's major Hypeman Paul Selah the Official Hypeman will all grace this event.
"This event has received overwhelming love and support and this is important to me as a deejay, it shows people notice what I do and this is my biggest reward to see many appreciate my work from just serving normal mixes but also are willing to grow with me" DJ Victor256 told www.nispage.com
"We've always seen DJ Victor256 and he is a focused creative mind when on the task – He does what is needed to be done and he doesn't get caught up in how big it is. When you consider the fact that as a DJ, can't just do scratches at events, upload mixes online just like that, it is a big deal to have this type of representation which is a measure of ones creativity that can make an impact to not only gospel fraternity but also secular world, if am to state" says his manager and brand manager, Frank Ozim.
Moving at his own pace, creating new legacies and charting a path for others to follow, DJ Victor256 who doubles as Uganda gospel music Promoter and host of award-winning Beat Street Radio Show he co-hosts with CJ on 104.1 Power FM, is the first deejay in our nation to create an online show that's now turning into an annual event.
The Play House Parte is scheduled to take place on 27th March 2022 at Jael Kitchen on Naguru Katale Road and Tickets are on sale at 20k ugx – You book via call: +256-773684613 and What'sap: +256-790226795
The event that's proudly sponsored by BTM TV, Geek State Muzik, www.nispage.com, Jael Kitchen and Chet Photography, and will have a live band experience by Tritone music band plus lots of fun-activities like Play station games, board games and others.